Gregory Scott, Nam June Paik & Theaster Gates
Time with Hopper, 2013
Gregory Scott
Video Installation: pigment print, oil on panel, and HD video
Zen Hen, 1986
Nam June Paik
Mixed media sculpture

Tall Stack (Four Corners), 2011
Theaster Gates
29 1/2" x 12" Sculpture: white cement, glass, and plates
Courtesy of the Richard and Sandor Family Collection
Mortification 03, 2007-08
Claudia Hart
5 1/4" x 10" x 6 1/4" Copper plated sculpture
Mortifications are a series of figurines derived from the heavy ABS plastic output from a Rapid Prototype machine. Individual 3D computer models are produced via a process normal to industrial manufacturing. In the Mortifications, a realistic model of a nude is digitally "mutilated" and subjected to irregular and apparently organic deformations. By creating forms that evoke decay out of non-biodegradable ABS plastic, using a process intended to produce prototypes for mass production, the Mortifications propose a digital Baroque. Related to the intentions of the historical Baroque, the emotionally expressive, personal style of this imagery is intended to breathe irregularity and life into a conformist techno/consumer culture.
Courtesy of the Richard and Sandor Family Collection
Smoke Tree2, 2006
John Gerrard
46 1/16" x 23 5/8" x 20 7/8" Real time 3D sculpture
Courtesy of the Richard and Sandor Family Collection
Unending Closure, 2002
Fernando Orellana
84" x 8" x 8" Robotic Sculpture
Using robotics as the primary medium, "Unending Closure" is a response to this accelerated social trend. Being inherently driven by a sense of curiosity and exploration, the robots that exist in these two wooden columns live in a constant state of suspiscion and fear, attempting to "see" what is outside, yet drawing back at the earliest guise of danger.

Each robot is equipped with an IR sensor, which it uses to "explore" its world from the small opening near the top of each column. The sensor is mounted on a mechanism that allows for the robot to search both vertical and horizontal space. While they do this, they each make unique searching sounds from a built-in sound generator and speaker. Once they find a viewer, they will focus on them, waiting to see whgat the viewer does. If the viewer gets too close, they will try to get away by shaking ground at varying levels of intensity and making distinct warning sounds. If the viewer stays within a certain distance, the robots will try to communicate with them, using sounds and shaking . . .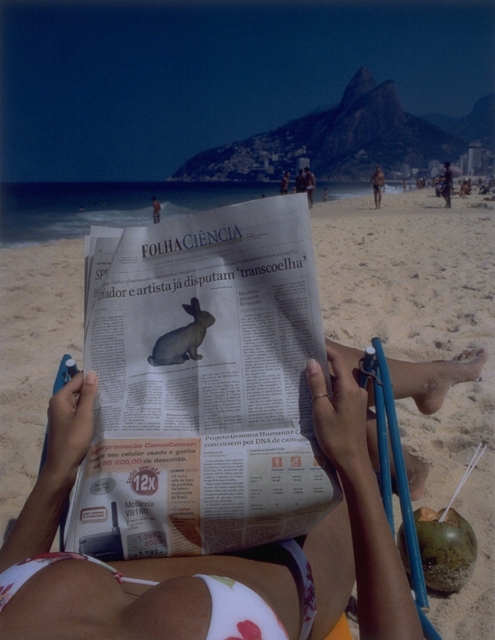 Free Alba! (Folha Ciencia), 2002
Eduardo Kac
46 1/2" x 36" Vintage color photograph on Plexiglas
The photograph "Free Alba! (Folha de São Paulo)", 2002, was shot on Ipanema Beach, in Rio de Janeiro, in 2002. The Morro Dois Irmãos (Twin Brothers Hill) can be seen on the background. In the photograph we see a reclining woman comfortably reading the Brazilian newspaper Folha de São Paulo (October 7, 2000 ). The newspaper has two articles about GFP Bunny. On the left we see a translation of the original Le Monde article (Galus, Christiane. "Les animaux fluorescents fascinent chercheurs, artistes et militaires", Le Monde, October 5, 2000, pp. 1, 29.). On the right we see an article written by a Brazilian journalist (Buratto, Luciano G. "Eduardo Kac afirma que acordo sobre animal foi rompido", Folha de São Paulo, October 7, 2000, p. A18.) Like all images in the "Free Alba!" series, the photograph is taken from the perspective of the person reading the newspaper, as if the viewer occupied that point of view . . .
Courtesy of the Richard and Sandor Family Collection
Selfie Drawing 31 "Peer to Peer," 2015
Carla Gannis
17 1/2" x 18" Digital Print: archival Ink and colored pencil on paper
Courtesy of the Richard and Sandor Family Collection
Collector's Item, 2018
DiMoDA
Digital sculpture: 3D printed resin model on LED-illuminated base
DiMoDA's Limited Edition Collector's Items are digitally fabricated, made-to-order physical ephemera, issued with each new iteration of the museum starting since DiMoDA 1.0. Each Collector's Item includes a 3D printed resin model of DiMoDA's architecture, a USB Memory drive containing an executable VR app** of the associated DiMoDA exhibition, and an LED-illuminated base that can be used as a pedestal or wall mount.
Courtesy of the Richard and Sandor Family Collection


Roberta Construction Chart #2, 1975
Lynn Hershman Leeson
20"x24" Vintage dye transfer print
Courtesy of the Richard and Sandor Family Collection
Have a Nice Day, 2002
Martyl
Ellen Sandor & (art)n: Keith Miller, Pete Latrofa and Janine Fron
30"x40" Virtual Photograph/PHSCologram: Duratrans, Kodalith, Plexiglas
A painterly mountainscape inspired by Martyl's "Tent Rocks" looms in the background, ominously juxtaposed with Martyl's "Doomsday Clock", initially designed in 1947 as a magazine cover for the Bulletin of the Atomic Scientists. The clock is instantly recognized as a symbol of the nuclear arms race. Its relevance is of even more importance today, with rogue nations now admitting to possessing nuclear weapons, and recent increased terrorist activity. We can only hope this work is not a symbol of what is to come, as we try to make light of the dark humor in the title—"Have a Nice Day".
Courtesy of the Richard and Sandor Family Collection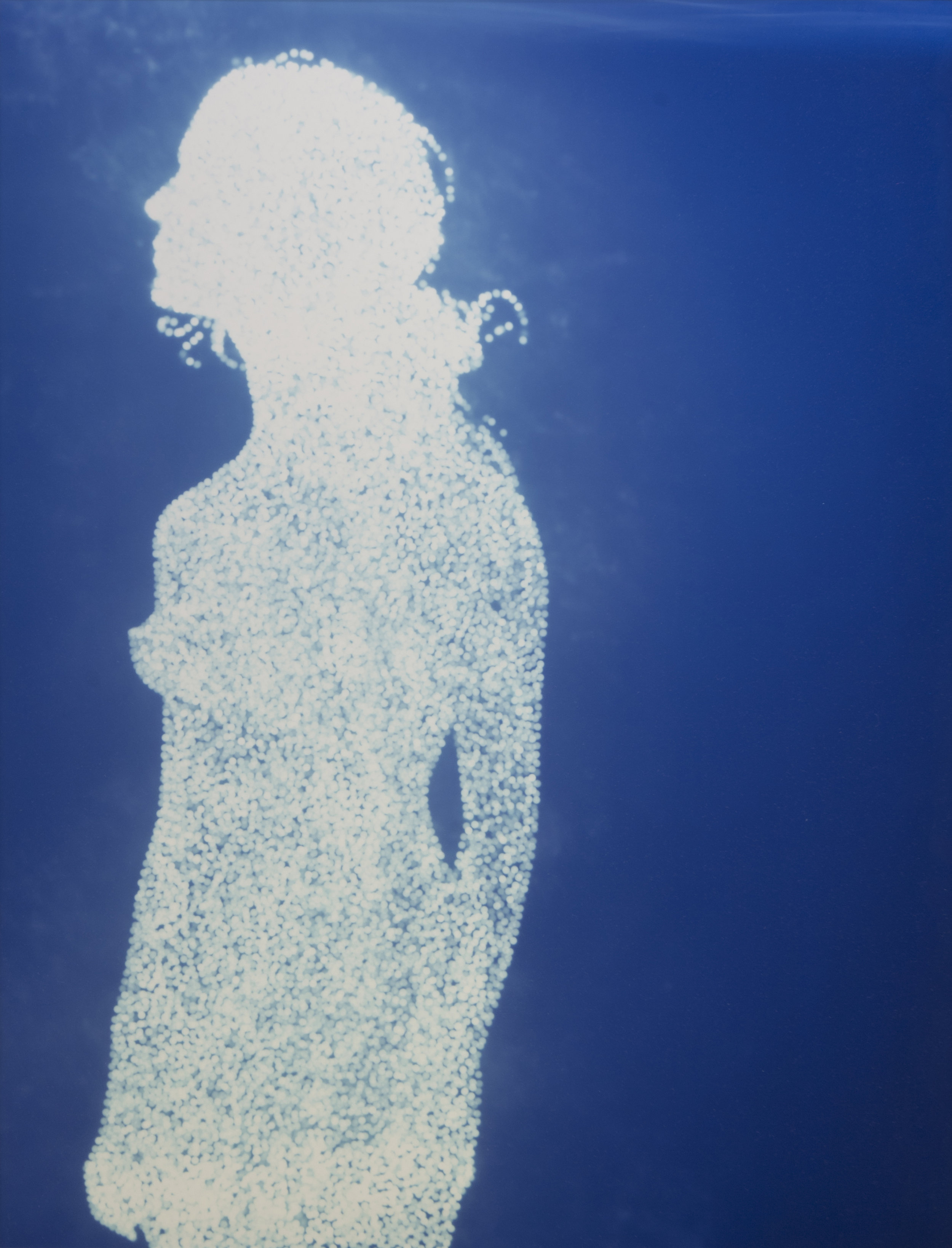 Guest 1:46 pm 19th March 1998
Christopher Bucklow
40" x 30" Vintage cibachrome
Courtesy of the Richard and Sandor Family Collection
Evolution II, 1984
Nancy Burson
7" x 7" Vintage gelatin silver print
Courtesy of the Richard and Sandor Family Collection